ArtMosphere

ArtMOSPHERE is an ongoing series of unique Art Exhibitions, each showcasing approximately 300 selected paintings, plus Live Classic Rock, Jazz Fusion, and Blues situated at a cool venue.
Each event spotlights dozens of artists exhibiting a variety of styles.
More than one-hundred Long Island artists will be taking part in this series.
Visit our Facebook page for photos and event updates
Lots of ArtMOSPHERE event videos at http://www.rich-videos.com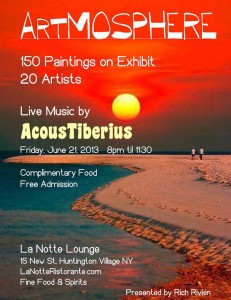 ---